Google releases Gmail.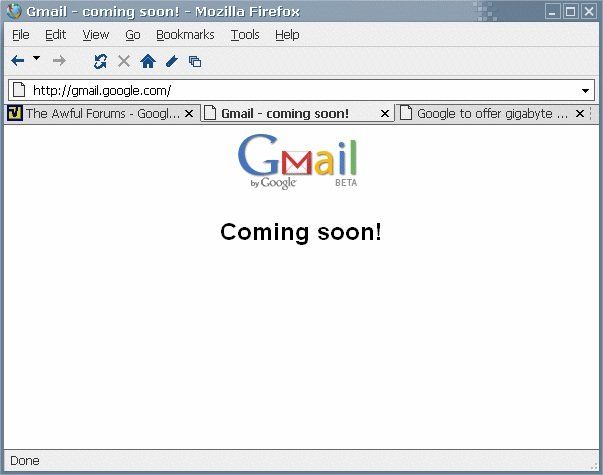 If you wanted to pick a single date to mark the beginning of the modern era of the web, you could do a lot worse than choosing Thursday, April 1, 2004, the day Gmail launched.
Scuttlebutt that Google was about to offer a free email service had leaked out the day before: Here's John Markoff of the New York Times reporting on it at the time. But the idea of the search kingpin doing email was still startling, and the alleged storage capacity of 1GB—500 times what Microsoft's Hotmail offered—seemed downright implausible. So when Google issued a press release date-stamped April 1, an awful lot of people briefly took it to be a really good hoax.
Gmail turned out to be real, and revolutionary. And a decade's worth of perspective only makes it look more momentous.The first true landmark service to emerge from Google since its search engine debuted in 1998, Gmail didn't just blow away Hotmail and Yahoo Mail, the dominant free webmail services of the day. With its vast storage, zippy interface, instant search and other advanced features, it may have been the first major cloud-based app that was capable of replacing conventional PC software, not just complementing it.
Even the things about Gmail that ticked off some people presaged the web to come: Its scanning of messages to find keywords that could be used for advertising purposes kicked off a conversation about online privacy that continues on to this day. Within Google, Gmail was also regarded as a huge, improbable deal. It was in the works for nearly three years before it reached consumers; during that time, skeptical Googlers ripped into the concept on multiple grounds, from the technical to the philosophical. It's not hard to envision an alternate universe in which the effort fell apart along the way, or at least resulted in something a whole lot less interesting.